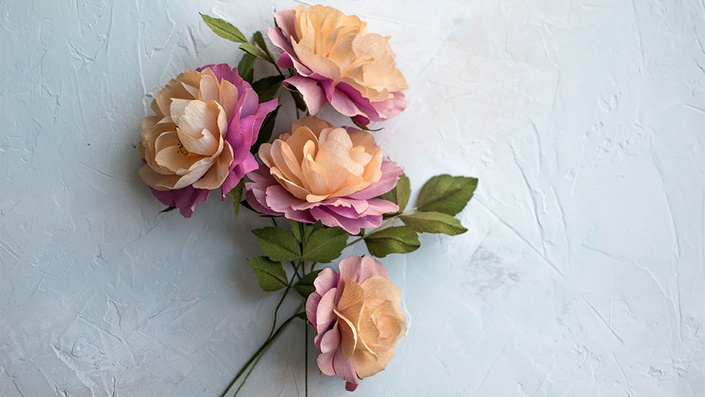 Distant Drums Rose
Learn how I make these gorgeously peachy-mauve garden roses that every florist loves to use
Watch Promo
Enroll in Course
The Distant Drum rose is my absolute favourite rose to make when I want a flower that's both classic and has a unique colouring. Although the colour of the rose changes in different climates, it's known for its peachy-bronze-mauve colour. It's a favourite rose for many florists. I loved teaching it in my in-person workshops.

When I first embarked on making this flower in crepe paper, I approached it like any other flower I make. Little did I know that through the process of designing and constructing this rose, it would ultimately become one of my breakthrough flowers.
I don't want you to re-invent the wheel. Let me teach you the skills and techniques I learned as I was creating this flower, so you don't need to. In this course,
* Learn my basic formula or creating an ultra-realistic floribunda rose
* Receive my unique templates for this rose
* Learn my secret of making the petals in the centre swirls open naturally
* Learn how I create texture in a flower
* Learn how I assemble the flower so the petals look naturally placed
* Learn how I make a proper leaf stem for a rose
You will also learn some specific skills and techniques, like these:

- To make a fringed stamen
- To colour your stamen with a common seasoning
- To reduce bulk on the stems
- To manipulate petals so they look natural
- To tint the petals
Like I said, this is one of my breakthrough flowers.While designing and creating this flower, I discovered techniques that elevated my paper floral artistry. I've been able to transfer many of the skills I learned from designing this flower to other types of roses and flowers. I hope you'll join me on this journey as this might be the breakthrough flower for you too!
This course is ideal for Intermediate students (or students with previous experience making paper flowers).

Your Instructor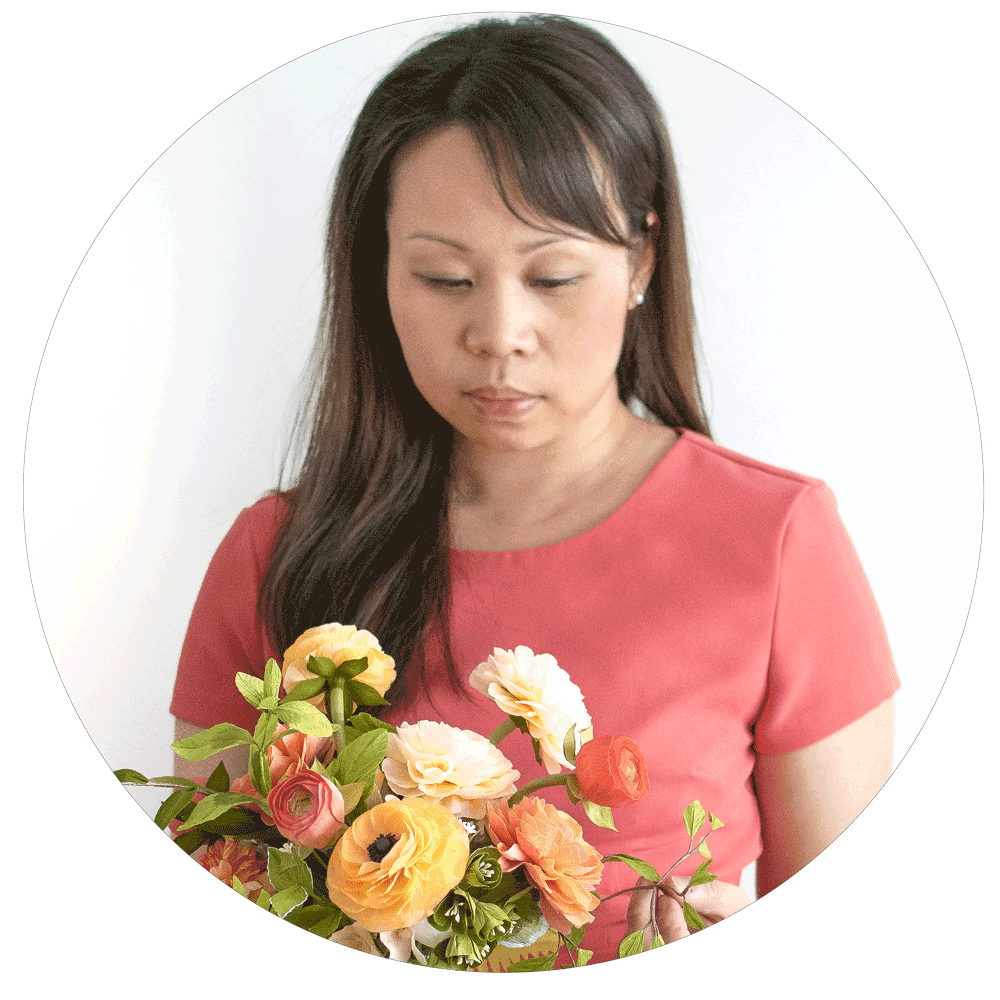 Hello! I'm Jessie Chui, the paper floral artist behind Crafted to Bloom, a studio in Mississauga, Ontario, Canada. I create intricate paper florals and high-end arrangements on a custom basis. My unique garden-inspired aesthetic had drawn recognition from numerous social media blogs and publications; I've been featured on 100 Layer Cake, Lia Griffith's Artist Interview Series, WedLuxe, Holt Renfrew, just to name a few. When I am not making paper flowers, I teach my craft through my online courses, and I instruct private workshops and group workshops at the Aurora Cultural Centre, the Elora Centre for the Arts, and at The Paper Place in Toronto. I am a full-time mom to a 28-month old toddler, a lover of all things beautiful and intricate, a soccer enthusiast, and a family lawyer by profession.

Course Curriculum
Introduction
Available in days
days after you enroll
Making the Stamens
Available in days
days after you enroll
Making the Inner Petals
Available in days
days after you enroll
Frequently Asked Questions
When does the course start and finish?
The course starts now and never ends! It is a completely self-paced online course - you decide when you start and when you finish.
How long do I have access to the course?
The short answer - Forever. The long answer - You'll have access to the course videos and content forever as long as Crafted to Bloom exists.
Do you offer any refunds or guarantees?
Yes - to refunds and Yes - to guaranteeing that you'll learn something! If, after completing this course, you feel that you did not learn any new skills and/or techniques or improve on existing skills, you can contact me within 30 days of purchase for a full refund.
I'm an experienced paper floral artist. Would I still benefit from this course?
I don't know about you, but I absolutely LOVE to watch other seasoned paper florists work and create. I always learn new tricks or new ways of doing something. It's amazing how everyone does things differently. I'm confident that you'll learn something new from my course too.
I've never tried making paper flowers. Is this for me?
Absolutely - this course is perfect for anyone who wants to learn. This course provides step-by-step instructions as I guide you at each step through video instruction. You get to watch me make a Distant Drums rose up-close while I thoroughly explain every action I take. You'll have access to the templates that I use - no need to free-hand cut anything! If you didn't catch something - anything - the first time, you can watch and re-watch the videos. I'm confident that you will create a gorgeous flower that resembles my Distant Drums rose by the end of the course. That said, I do recommend that you also take my Beginner courses so you can familiarize yourself with some of the basic skills and techniques, which will accelerate your learning in my Intermediate/Advanced courses.
Here are what students are saying about their experience with this course:
I signed up to Jessie's online "Distant Drums " flower workshop in fear and trepidation. But I had the most magical time with Jessie as I basked in her patience and attention to detail as she brought to life this beautiful flower in my hands.

It was pure joy to learn at my own pace and to be able to go back and check I had got the next step right. I also learnt some new techniques which I have already put into practice in my flower making.

If you want to learn in this way I thoroughly recommend this course but I must warn you making this awesome flower is addictive

- Sue Bowen


I highly recommend this lovely class!

Jessie has created a wonderful course with Teachable showing how to make a Distant Drums crepe paper rose. She shares her incredible talent and secrets for creating a truly unique paper flower.
I've been making paper flowers for over a year, learning from many different tutorials and instructional books. This class now ranks at the top of my all-time favorites!

Jessie has filmed a very detailed course, and walks you through each step, just as if she were sitting there with you. The quality of the film and sound is excellent, as are her instructions. You can listen, read (she includes a printed instruction sheet), or just watch as she shows you every step; including some techniques I had never seen before. The templates are full size; just print and cut.
I think even beginners will be able to follow along and with practice create a lovely bloom, and experienced paper florists will be happy to learn some new tricks to add to their repertoire.

- Sheila Fisher, Petals from Paper

I have always loved Jessie's Distant Drums Roses and really was stumped on how she made them. So I took the plunge and purchased the course. First off, the instructions and video were great and easy to understand. She explained all the materials needed in concise format and made it easy to get started. She walks the student through the process from start to finish. Many of the courses that I have seen go through the details so quickly that I found I've had to stop and rewind—not this time. You can work right along with Jessie and create the perfect Distant Drum Rose. The cost was very reasonable, too!!! I can't wait to make more of these beautiful roses. Thanks Jessie!!!!

- Susan Bonn, Susan Bonn Designs