Ideal for Intermediate students (or students with previous experience making paper flowers).
In this course, you will learn how I make realistic-looking foxgloves (Digitalis purpurea) at your own time and pace. I first teach you the basics of how I make my 'Dalmatian White' from template to assembly. Then, I'll show you how I make 2 other variations using this general formula, the 'Camelot Rose' foxglove and the 'Apricot Beauty' foxglove.
You'll learn and perfect the following skills and techniques:
The basic formula to make my 'Dalmatian White' Foxgloves
2 additional variations of foxgloves, namely, the 'Camelot Rose' and 'Apricot Beauty'
Using colour to imitate the stages of progression from bud to maturity;
Creating buds and blooms in different sizes to mimic the stages of maturity;
Creating realistic petal details using tools you already have or can easily access;
Assembling the buds and blooms in a natural spire shape.
I've taught this flower at a workshop, thus I've been able to perfect the formula so that every student, beginners or intermediate or advanced, will end up with stunning results within a few hours. If you wish to add more details to the flower after you've learned it from me - sure, feel free to do so! Variations create interest in arrangements and your paper garden.
The first foxglove I made was for one of my earliest bouquets. I had originally sought to use it to elongate the shape of the bouquet. But it refused to be just a structural piece. It became the star of that bouquet. I promise you that with a little patience and an afternoon free of distractions you'll make a foxglove worthy of your paper arrangements and garden.
Your Instructor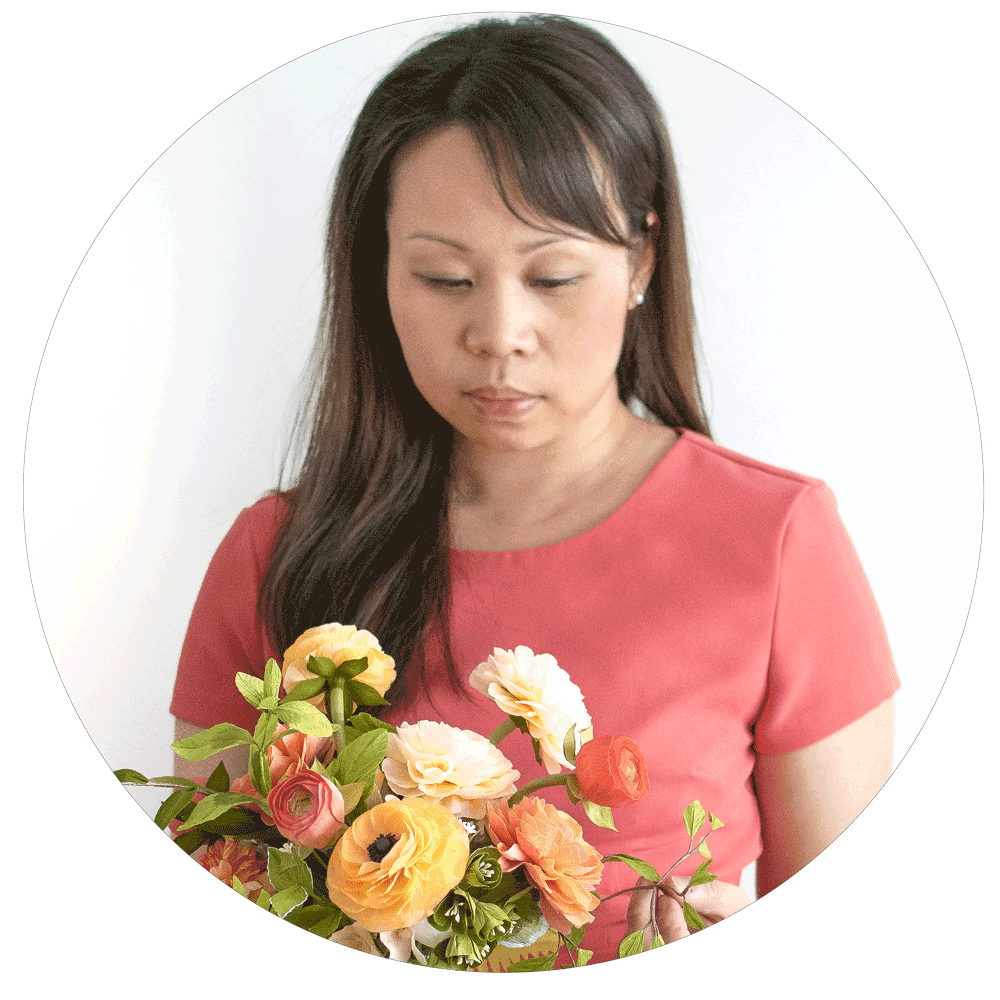 Hello! I'm Jessie Chui, the paper floral artist behind Crafted to Bloom, a studio in Mississauga, Ontario, Canada. I create intricate paper florals and high-end arrangements on a custom basis. My unique garden-inspired aesthetic had drawn recognition from numerous social media blogs and publications; I've been featured on 100 Layer Cake, Lia Griffith's Artist Interview Series, WedLuxe, Holt Renfrew, just to name a few. When I am not making paper flowers, I teach my craft through my online courses, and I instruct private workshops and group workshops at the Aurora Cultural Centre, the Elora Centre for the Arts, and at The Paper Place in Toronto. I am a full-time mom to a 28-month old toddler, a lover of all things beautiful and intricate, a soccer enthusiast, and a family lawyer by profession.

Class Curriculum
Variation 1 | 'Camelot Rose' Foxglove
Available in days
days after you enroll
Here is what students are saying about this course:
Wow! Jessie's Foxglove course is truly a treasure. This was such and enjoyable course filled with invaluable information and techniques for any skill level. The videos of this course are well organized and are easy to follow along with as you make your flowers with her. Jessie's attention to detail is superb and I really appreciate her tips and tricks for construction and coloring of these beautiful blooms. If you've been thinking about trying one of Jessie's courses, wait no longer. Jump in and start making some amazing paper flowers. Thanks, Jessie!
- Stephen

Brooks,

The Paper Peony
Frequently Asked Questions
I've never tried making paper flowers. Is this for me?
Absolutely - this course is perfect for anyone who wants to learn. This course provides step-by-step lectures with me guiding you at each step through video instruction. You get to watch me demonstrate various steps up-close while I thoroughly explain every action I take. You'll have access to the templates that I use - no need to free-hand cut anything! If you didn't catch something - anything - the first time, you can watch and re-watch the videos. I'm confident that you will create a gorgeous flower that resembles my foxgloves by the end of the course. That said, I do recommend that you also take my Beginner courses so you can familiarize yourself with some of the basic skills and techniques without feeling overwhelmed with the skills and techniques taught in the Intermediate/Advanced courses.
I'm an experienced paper florist. Would I still benefit?
I don't know about you, but I absolutely LOVE to watch other seasoned paper florists work and create. I always learn new tricks or new ways of doing something. It's amazing how everyone does things differently. I'm confident that you'll learn something new from my course too.
Do you offer any refunds or guarantees?
Yup! If, after completing this course, you feel that you did not learn any new skills and/or techniques or improve on existing skills, you can contact me within 30 days of purchase for a full refund.
How long do I have access to the course?
The short answer - Forever. The long answer - You'll have access to the course videos and content forever as long as Crafted to Bloom exists.
Where and when can I access the course?
Anytime and at anyplace, on mobile or on a computer.